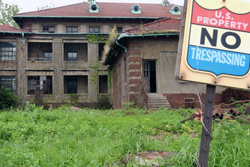 Availability: Daily
The Ellis Island Hard Hat Tour begins 2-1/2 hours after your Departure Security Check-in Time.
Ticket price includes:
* Round-trip Ferry Ticket and Guided Tour.
* 90 minute Guided tour of the unrestored Ellis Island immigrant hospital buildings.
* "Unframed - Ellis Island," Art Exhibit by renowned French artist JR on display throughout the hospital complex with installations on 16 interior walls.
Guided 90-minute tours will take you to select areas of the 750-bed Ellis Island Hospital, including infectious and contagious disease wards, kitchen and the mortuary and autopsy room. At its peak of operation in the early 20th century, this was the largest Public Health Service facility in the United States. Following in the footsteps of the dedicated doctors and nurses of years gone by, you will learn the fascinating history of the hospital and its role in preserving public health.
You'll also visit the Laundry Building, with much of its original equipment still in place, where over 3000 pieces of laundry were washed and sanitized daily.
Save Ellis Island reserves the right to refuse entry to the tour or remove any participant who does not comply.
Tour Conditions:
All participants must be 13 years of age or older.
Participants should expect to be on their feet for 90 minutes.
Your reservation assigns you to a scheduled tour, and the departure and start times will be printed on your ticket. Your Hard Hat tour begins 90 minutes after departure. You must check in at the Save Ellis Island Information Desk on the ground floor of the Ellis Island Immigration Museum when you arrive on the island and again at the start time for your tour. The reservation is non-transferrable. If you miss your scheduled Hard Hat Tour, you will not be able to join anoother Hard Hat Tour.
Tour participants must stay with a Save Ellis Island guide at all times. Unauthorized entry of areas off the guided tour will be considered trespassing. Violators will be subject to arrest and prosecution.
Each participant must wear a hard hat, which will be provided by Save Ellis Island for use during the tour.
Preparing for the tour:
Tours will be held regardless of the weather, and the buildings are not climate controlled. Participants must be properly dressed for weather conditions in New York Harbor on the day of their tour. This may include rain, snow or wind. In extreme weather, the National Park Service may close the island early or for the entire day, requiring cancellation of the tours.
There are no working bathrooms on the south side of Ellis Island. Please make use of the facilities in the Immigration Museum before reporting for the tour.
Wear comfortable, closed-toe shoes. Sandals, flip-flops, open-toed shoes and high heels are not permitted.
Building conditions and artifacts:
Participants understand that they will enter unrestored buildings containing potential hazards including broken glass, uneven walking surfaces, dust, cracks and loose fixtures. Participants will exercise care to avoid all hazards.
These unrestored building do not comply with Americans with Disabilities Act (ADA) requirements. Participants must be able to climb stairs. We regret that visitors with wheelchairs or scooters are not permitted on the tour.
Per National Park Service regulations, removal or disturbance of historic artifacts on Ellis Island is prohibited. Participants will not touch anything in the hospital buildings unless specifically permitted by the Save Ellis Island tour guide.
Photography:
Still photography is allowed as long as it does not delay the tour, at the Save Ellis Island tour guide's discretion. Additional camera gear such as tripods, unipods and additional lighting is not permitted.
For your safety, visitors are not allowed to take video while walking.
This Reserve Ticket offers a self-guided Audio Tour headset as your tour around Liberty Island. The Reserve Ticket provides access to the grounds of Liberty Island and limited access to Ellis Island Immigrations Museum. The Reserve Ticket allows you priority entry to the Boarding Queue which saves you time at the departure point.
Duration: Approx. 3 hours