Plan Your Visit
Directions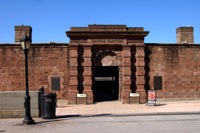 Battery Park, NY - New York City (Manhattan) Departure

Parking - parking is limited near Battery Park. Public transportation is recom­mended for your visit to the Statue of Liberty National Monument and Ellis Island Immigration Museum if departing from New York. Visit www.mta.info for more information regarding public transportation to the statue ferry.

By Subway - Local 1 (7th Avenue Line) to South Ferry, or Express (Lexington Avenue Line) 4 or 5 to Bowling Green, or Local from Brooklyn/Queens R/W to Whitehall Street Station.

By Bus - M15 (East Side) South Ferry, or M6 (West Side) from 57th street.

By Car - East Side - take FDR Drive South, Exit 1 South Ferry Battery Park. West Side - take Westside Highway South (9A) to Battery Park.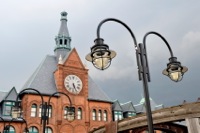 Liberty State Park, NJ - New Jersey Terminal Departure

The ticketing and departure areas at Liberty State Park are located by the historic Central Railroad of New Jersey Terminal near the water. Parking ia available for a fee. This is an ideal departure location for you if you are traveling by car, motorhome or private bus. Liberty State Park is also accessible by taxi, ferry and public transportation.

By Public Transportation - Take the Hudson-Bergen Light Rail (HBLR) to the Liberty State Park Station, then walk or bike 1 mile on Audrey Zapp Drive to the ticket office area located by the CRRNJ Terminal. From the ticket office/security tent areas, walk 1/3 of a mile to the ferry gangway for departures.

At the entrance of Liberty State Park, the Hudson-Bergen Light Rail is accessible by PATH at the Hoboken Station or Newport (Jersey City) Station. More information about NJ Transit's Hudson-Bergen Light Rail (HBLR)-Liberty State Park station.

By Car - From the New Jersey Turnpike take exit 14-B and follow the signs to Liberty State Park.

By Ferry - Liberty Landing Ferry Service - from the World Financial Terminal in New York to the Liberty Landing Marina at Liberty State Park, NJ. Visitors with ferry tickets to the Statue of Liberty and Ellis Island will receive $2 discount on Liberty Landing Ferry Service tickets.