Access the Statue of Liberty Crown, Ferry access to both Liberty Island and Ellis Island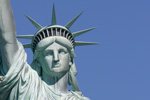 Includes: Ferry access. Access up to the Crown of the Statue of Liberty, Priority entry into the Boarding Queue which saves you wait time at the departure point, Access to the grounds of Liberty Island and Ellis Island.
• Includes access to the new Statue of Liberty Museum on Liberty Island, opened in May 2019.
• Crown Ticket security restrictions: Purchase is limited to 4 Crown tickets. The purchaser must be one of the ticket holders. The names of all ticket holders will be asked for and are required during purchase.
• Crown tours sell out weeks in advance. Reserve and Pedestal tours have greater availability.
• Note: Late afternoon tours, 2PM and 3PM, will not have enough time to stop at Ellis Island Immigration Museum.
• Includes Reserve Ticket line access which avoids long waits in the general Flex Ticket line.
• Island ferry transportation by Statue Cruises, the only ferry provider with access to the grounds.
• All tours include complimentary Audio Tour for both Liberty Island and Ellis Island.