Access the Statue of Liberty Crown, Ferry access to both Liberty Island and Ellis Island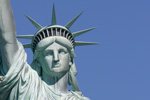 Includes: Ferry access. Access up to the Crown of the Statue of Liberty, Priority entry into the Boarding Queue which saves you wait time at the departure point, Access to the grounds of Liberty Island and Ellis Island.
Note: When choosing your reservation date and time, this is your entry into the Security Facility and not a specific ferry departure. Ferries depart approximately every 20 - 30 minutes depending upon the departure point.
• No Cancellations allowed for Crown Tickets.
• Crown Ticket security restrictions: Purchase is limited to 4 Crown tickets. The purchaser must be one of the ticket holders. The names of all ticket holders will be asked for and are required during purchase.
• Children under 42 inches are restricted from access to the crown. 1 Adult must be present for each group of 4.
• There are 162 narrow and tight steps from the top of the pedestal to the crown. There is no elevator access from the top of the pedestal to the crown platform (from the Statue's feet to the Statue's head).
• Note: Late afternoon tours, 2PM and 3PM, will not have enough time to stop at Ellis Island Immigration Museum.
• Face coverings are recommended throughout the visit.
• Children under the age of 17 must be accompanied by an adult.
• All tours include complimentary multilingual Audio Tour.