Access the Statue of Liberty Crown, Ferry access to both Liberty Island and Ellis Island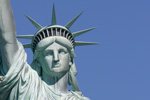 Includes: Ferry access. Access up to the Crown of the Statue of Liberty, Priority entry into the Boarding Queue which saves you wait time at the departure point, Access to the grounds of Liberty Island and Ellis Island.
* Crown tours sell out weeks in advance. Reserve and Pedestal tours have greater availability.
* Late afternoon tours, 2PM and 3PM, will not have enough time to stop at Ellis Island Immigration Museum.
Island ferry transportation by Statue Cruises, the only ferry provider with access to the grounds.
* We provide around-the-clock customer care support 7 days a week, including holidays.
Customer Care Support.
Price includes a per-ticket service fee of $7. Summary prior to checkout.